On the subject of vloggers and bloggers that actually pass scrutiny and offer information that is original, of good quality and properly credited, here are a couple I do actually visit and watch. Now it's the turn of Bored Panda and Atlas Obscura.
The categories of vlogs and blogs I'll be assessing are;
Curated contents generated by users (blogs or vlogs that host curated contents generated by users)
Original contents, team generated (blogs or vlogs that have original contents generated and presented by a team)
Original contents, host generated (blogs or vlogs that have original contents generated and presented by one person, the host)
Business generated contents (businesses that publish blogs and vlogs to promote their services)
Business hosted contents (businesses that curate and host contents generated by users or clients)
Type 1: Curated user-generated content, attributed and credited – Bored Panda and Atlas Obscura
Bored Panda
Bored Panda is an English-language website operated from Vilnius, Lithuania, with its own video streams on YouTube, that publishes articles about "lightweight and inoffensive topics". And the stuff really is lightweight, arty, feel-good and inoffensive. It was founded in 2009 by Tomas Banišauskas. Bored Panda has a number of YouTube channels including Crafty Panda that has over 10 million subscribers, Hungry Panda and Dear Diary. Overall, they get viewed over 250 million times per month. I visit the Bored Panda site because sometimes I'm bored and feel like being brainless and I get tired of the endless clickbait and outrage on the Internet.
Bored Panda's YouTube videos are credited and attributed  in detail, from the name of the voiceover artist, to the source of the different pieces of footage. The production quality is very good. The intention is praiseworthy – in this instance, in the video above, they are calling for viewers to sign a petition to leave the Jarawas, the subject of the video, alone.
The ownership and sources of Bored Panda are fully revealed on the website, from owner to phone number. You can also find the professional details of founder and head of the enterprise on LinkedIn (photo, left).
Authenticity checklist
Follow the money – is it self-funded and not owned by an undeclared party or agency? ✓ Yes, self-funded. Bored Panda is notable for shunning outside investment. It makes money from banner ads, content recommendations, and branded-content deals.
Is the information from the original source? 

? Partly, some articles are from other social news aggregators, like Reddit, others are from users or written by Bored Panda staff. Either way, the origin of the information is always provided.

Is the information attributed – do they credit the source?

✓

Is the information balanced? 

✓

Stories often give both sides of an argument. Especially when people upvote or like something that is a bad idea, like hand-feeding wild black bears. Then they add warnings by wildlife experts.
Are the production values good?

✓ Excellent

Does it offer contents that avoids rage, outrage, fear, or hate? 

✓ Yes, the messages are positive, sympathetic, rational – more woke than not, but not extreme

Does its writers adhere to some form of professional standard

✓ Judging by the lack of libellous information, credits, etc.
Nasty stuff checklist
Does it contain…?
Clickbait

X No

Content scraping

X No

Copyright infringement

X No

Misinformation / fake news / lies

X No
So Bored Panda is OK.
Being a YouTuber is hard
YouTuber rating:
About Bored Panda
On the Bored Panda site, registered, signed-in users upvote (another way of "liking") certain articles, for no other reason, I suspect, than that it is easy to do so. Articles with many upvotes are placed on the front page of the site, as a "featured article", whereas articles that are in the process of getting attention and upvotes are categorized as "trending". Bored Panda provides a submission platform that lets artists and creators share their own stories. Some submissions are of clever or beautiful creations, others are of bad art or something so derivative as to be meaningless.
Users luckily do not give the bad stuff any votes or attention. When they do upvote something, the submission can go viral.  This was the case where the mother of a teenager posted an article about her daughter's hand-made dress for a competition to design a prom outfit made out of duct tape. The competition is held by DUCK® BRAND DUCT TAPE, and is called "Stuck at the Prom" (ha-ha!). The winners are chosen by popular vote and, having drawn thousands of readers to the site to look at her design, this young lady won – deservedly.  It only took one post that went viral. (Thanks, Bored Panda.) Such is the power of the Internet.
In most cases, the text of the posts from the users, as well as other social news aggregators, contain additional comments from interviews with the original source, and the content writer uses attribution where they can as well as links to the original story. When you follow those links, you can and do reach the original creator of the information, though that person may not reveal their real identity and be known only by their pseudonym or avatar. In terms of ownership and information sources of stories generated by the staff of Bored Panda itself, it is clear who owns and produces them, and who owns and managed the site – names, addresses, numbers, emails, legal entity, etc.
Due to the fact that the contents at Bored Panda is actually inoffensive, even virtuous, and vetted and published with the name of the writer/researcher, the stories they publish do not have problems with provenance or source. Nor do they have to resort to click-bait and outrage.
"For a year or two in the early 2010s, a certain genre of cheesy, irresistibly uplifting headline was unavoidable on Facebook. You know the trope – someone died in an inspiring way, a potentially bad situation led to an unlikely friendship, a dog saved someone's life. Followed, almost always, by "You'll never believe what happened next." It was a sure bet to make content go viral, and traffic-hungry publishers flooded Facebook with curiosity-gap headlines. A host of sites dedicated to churning out viral clickbait—Viralnova, Distractify, Diply, Upworthy—flourished. You'll definitely believe what happened next. The format quickly devolved into a cringe-inducing punchline.

In response, Facebook tweaked the algorithm that determines which stories appear in its News Feed, and traffic to most viral publishers plummeted. Some sold, others changed strategies, others folded. Now, the easiest way to go viral on Facebook is with political news designed to provoke outrage and fear. That is, unless you are the one viral publisher that has defied the algorithm and thrived. Against all odds, Bored Panda, a blog started by a Lithuanian photographer in 2009, remains among the top publishers on Facebook.

As its competition has faded, Bored Panda's growth has accelerated. In October [2017], Bored Panda says it hit 116 million unique visitors, up from an average of 17 million per month last year. The company pays to promote some stories, though it attributes much of the recent growth to organic traffic. Much of that traffic comes through Facebook, where Bored Panda's October posts on average generated more likes, shares, and other reactions than any other English-language news site, according to NewsWhip, a news analytics provider.

Bored Panda had more than three times as many engagements per post as its closest competitor, conservative news site Daily Wire. In total engagements, Bored Panda ranked second only to Foxnews.com, and ahead of major news organizations like NBC, the Daily Mail, the New York Times, and CNN. It's a surprising ranking for a 40-person site associated with the early days of blogging—a throwback to when the Internet was less an addictive, stress-inducing reflection of the ugliness of modern life, and more a place to kill time when we were bored. With its simple, wholesome tales of ornery animals and feel-good photo projects, Bored Panda has flourished by sidestepping the outrage." (Erin Griffith, How Bored Panda Survived Facebook's Clickbait Purge, in Wired Magazine, 28 Nov. 2017)
Future developments
The editorial staff of Bored Panda have a content-generating activity of asking the "Bored Pandas" questions that entice participation, for instance, "Hey Pandas, What Is The Best And Worst Feature Of The People In Your Country?" or "Hey Pandas, What Is Your Favorite Classic Arcade Game?". That is done because, to get the maximum interest for an article, it has to involve or draw content from the greatest number of users. As a result, many upvoted, popular articles are about X number of times people have done XYZ, or X people who have done XYZ good, bad or weird things, or X number of dogs or cats that have done whatever. These "aggregated" articles are drawn from Bored Panda user submissions and sorted out through a process called content curation, which is also done to articles sourced from other websites. The contents is then organized in order of relevance and popularity, with the bottom-listed items available for viewing with a click. Each picture or idea has the name of its source. That is the right way to do it in that the information source is still cited.
Experts in particular fields often call themselves curators, and information users rely on their knowledge and taste to source and sort out information. While this makes things easier for the reader, it does lead to passivity and thoughtlessness when in readers and users. I, for one, does not like this. I find information on my own and come to my own conclusions.
When content curation is taken to extremes it becomes a form of content scraping, which is the practice of reusing and republishing website contents without permission, and without attribution, which is basically copyright infringement.
Bored Panda itself is the subject of content scraping. For example, the content of Bored Panda is copied to another identically structured website, which started in 2010 and is also managed from Vilnius, called DeMilked – Design Milking Magazine. What the link is, I do not know, it might be legitimate since Bored Panda was founded to promote art and design and DeMilked supposedly focuses on that – it might be a sub-brand. However, Bored Panda's articles are republished and reposted all over the Internet, from the Daily Mail to personal and business pages on Facebook, often without mentioning Bored Panda as the source or giving the name of the author. The Bored Panda website and video channel are subject to ongoing content scraping – and if the owners wanted, I'm sure they could be tied up for the rest of their lives suing other website owners for copyright infringement of their created contents.
"Whether pulling from Flickr creative commons, Reddit, Etsy, opinions from YouTubers, other news sources, whatever…"copy pasta" content that sucks in from others without giving credit will never fit into that quality label. There are minimal ways of giving credit that some use where they don't have to lose as many readers by those readers clicking out." (Source: Chris C. Anderson, Let's Talk About What Exactly Quality Content Means)
If I have a gripe about Bored Panda is that they do publish articles by damn fools who break into deserted buildings, rearrange or style the interiors to look more dramatic, take photos, write some over-emotional twaddle, and then publish the story and the photographs. This leads to more people breaking into these places, squatting there, partying there and eventually completely ruining what is actually private property. For example, a deserted, well locked-up and secured 12th century château in France, Château de Le Quesnel, was beset by inquisitive people after its existence was publicized by one of these "visitors". Trespassers stole what furniture was still inside and squatters started a fire that burned it to the ground in Dec. 2018. So much for appreciating the former beauty of a place.
---
Atlas Obscura
Atlas Obscura (AO) is an online magazine owned and operated by Atlas Obscura Inc., a Delaware Corporation. It was founded in 2009 by author and champion mnemonist Joshua Foer and documentary filmmaker and author Dylan Thuras. The website serves as a catalog of unusual and obscure travel destinations and food via user-generated content.
AO is funded through sales of AO expeditions, books, branded merchandise, memberships, advertising on their website and YouTube channel, as well as external funding from a large pool of investors, including mainstream media and venture capital funds. The AO YouTube channel has 93,900 subscribers and features 219 videos at Aug. 2020. More than 20,000 places have been listed on AO.
The credentials of the AO owners, management and staff are public information. Joshua Foer is a freelance journalist with a primary focus on hard sciences. Foer holds a BA in ecology and evolutionary biology from Yale. Dylan Thuras is the co-author, with Joshua Foer, of books on Atlas Obscura, and the host of the AO YouTube series 100 Wonders. He also founded Curious Expeditions, a travel-and-archeology company, in 2007. He holds a BA in film, writing, animation and visual arts.
A website/blog/vlog for people who are not dimwitted
As xkcd, my favourite humorous scientist alias Randall Munroe, shows in this comic from his website, xkcd.com, YouTube can be a nest of idiots who enrage other idiots with their comments. While AO is a publication that would appeal to millennials, it is definitely not dumbed down. It does not elicit, encourage or allow crazy, stupid comments and never publish that type of contents. The AO articles on literature and art – subjects I know a little about – are absolutely correct in facts, attribution and references. I know, because I played devil's advocate and spent some time checking their facts.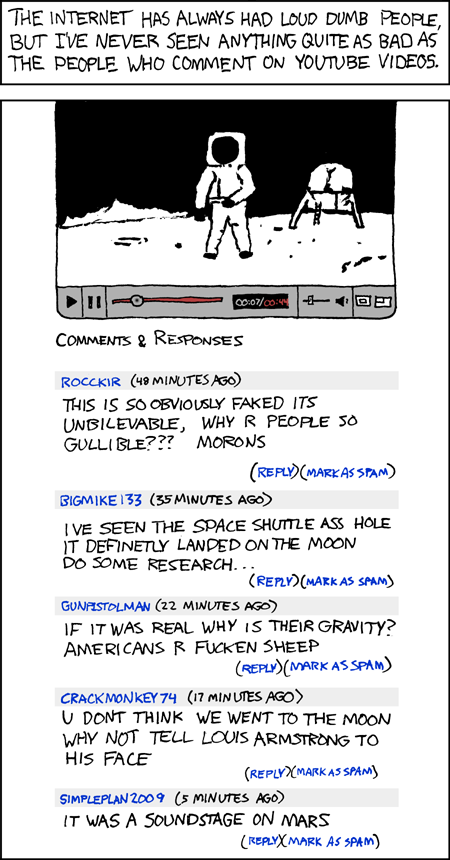 Authenticity checklist
Follow the money – is it self-funded and not owned by an undeclared party or agency?

✓

Yes, self-funded and through external investors. Revenue comes from books, branded merchandise, advertising on their sites and channel, travel and expeditions.
Is the information from the original source? 

✓ All submitted by AO contributors, all original

Is the information attributed – do they credit the source?

✓

Is the information balanced? 

✓ Most articles have a scientific angle.

Are the production values good?

✓ Excellent

Does it offer contents that avoids rage, outrage, fear, or hate? 

✓ Yes

Does its writers adhere to some form of professional standard

✓ Yes, both in terms of contents and language
Nasty stuff checklist
Does it contain…?
Clickbait

X No

Content scraping

X No

Copyright infringement

X No

Misinformation / fake news / lies

X No
So Atlas Obscura is OK. More than OK, actually.
YouTuber rating:
---
About Atlas Obscura
Three AO books as well as a number of calendars have been published:
Atlas Obscura: An Explorer's Guide to the World's Hidden Wonders, by Joshua Foer , Dylan Thuras , et al., Workman Publishing Company. Sept. 20, 2016 (This book was a bestseller on Amazon.)
Atlas Obscura, 2nd Edition: An Explorer's Guide to the World's Hidden Wonders (2019)
The Atlas Obscura Explorer's Guide for the World's Most Adventurous Kid, by Dylan Thuras , Rosemary Mosco , et al., Sept. 18, 2018
The company is headquartered in Brooklyn, New York, and has more than 40 staff members, as well as contributors for all around the world. In 2014, AO hired journalist David Plotz as its CEO. In 2015, Atlas Obscura raised its first round of major funding, securing $2M from a range of investors including The New York Times. In 2016, the company expanded into travel with its first two guided trips. In late 2017, following another funding boost of $7.5M, the site launched Gastro Obscura, a food section covering "the distinctive food locations of the world." Samir Patel, formerly of Archaeology magazine became the Editorial Director in 2020. Prior to Patel, Sommer Mathis, formerly of The Atlantic's CityLab, was editor-in-chief for three years. In March 2020, AO announced that they have appointed a new CEO, Warren Webster, former president and CEO of Coveteur and co-founder of Patch.
Almost all the content on Atlas Obscura (AO) is generated by users to fit rigorous criteria in terms of images, text length and factuality. Each submission is fact and language-checked by the AO editorial team. I have actually written to AO to compliment them on the excellent writing on the site. Some of the longer submissions that make up full articles are worthy of being published separately. According to the then editor-in-chief, Sommer Mathis, this editing ensures quality content but is a time-consuming process that is actually quite costly. The site editors are careful to keep the contents factual and the articles have a depth of detail that show that they were written by experts.
According to Thuras, one of AO's main goals is "…creating a real-world community who are engaging with us, each other and these places and getting away from their computers to actually see them." Atlas Obscura has since originated Atlas Obscura Societies and has organized local experiences in seven cities: New York, Philadelphia, Washington D.C., Chicago, Denver, Los Angeles, and Seattle. Obviously the COVID-19 lockdown has put a damper on these gatherings, as well as the travel. So it's like a modern version of National Geographic, or what National Geographic used to be. Their travel ventures have gained them a Webby Award.
Oh, don't let the idiots go and see…!
The down-side to the publication of information about obscure and hidden wonders, is that people can and will flock to these places, potentially ruining them. Each write-up on a place states how to get there there and gain access – and makes it very clear whether access is allowed. Hopefully, the lack of superficiality, flash, glamour and extremism on the site will make it appealing to educated readers who will not be Instagram Idiots – sorry, Influencers – and who will not flock en masse to these places to take selfies and damage the location.